Welcome to another blog spot from Turrall flies. In this instalment we have some thoughts on fishing wild, windy lakes for brown trout, plus your chance to win a selection of our favourite flies for these settings. Dominic Garnett takes up the challenge on Colliford Lake, Cornwall.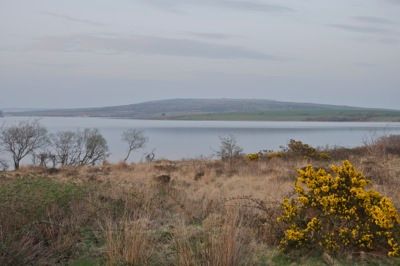 Fishing a team of three flies can be excellent fun on large waters. The lochs of Scotland and Ireland, where many of the classic patterns originate, are rightly famous for their brown trout fishing. However, here in Devon and Cornwall we also have some epic and underrated fisheries, with so much history and promising water to try. Indeed, It might seem odd to describe 900 acres of water as something of a "local secret", but how many visitors going on fishing holidays in Cornwall drive right past?
Day tickets can be picked up easily at the Jamaica Inn, just off the A30, which is a welcome stop, not to mention a fascinating slice of Cornish history. Whether the fishing is good or indifferent, they also serve a great pint of Jail Ale, should you fancy celebrating or drowning your sorrows later in the day.
Breezy conditions tend to bring the best our of Colliford Lake to life, but there was only a gentle wind as we tackled up on this occasion. Encouragingly, there were odd buzzers coming off though. And surprisingly, for such an inviting scene, there were no other anglers.
What are the best flies for Colliford? I tend to like a team of three, but mixing and matching flies a little. A larger buoyant fly such as a Mini Muddler, Muddler Daddy or Sedgehog works a treat on the top dropper, given any breeze. Not only does a fairly meaty, floating pattern send out a good wake to draw the trout, it also gives added bite detection (and I like to apply floatant liberally to make such wake flies float like a cork). If you can get the fish chasing, the surface takes can be spectacularly brutal, but even if they're a little deeper, the commotion will also often draw trout up to look at your other flies.
For a middle dropper, I will then try something traditional and bushy. Snatchers are particularly good. Dark colours are excellent, but reds and clarets are also handy if the water has a little tinge to it. Finally, I like to go subtler with my final fly, with a Daiwl Bach or buzzer on the point.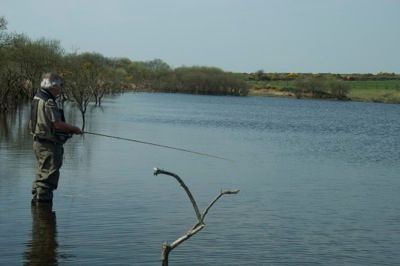 Regardless of conditions, it pays to be mobile on such a lake. In some 900 acres of water, you simply can't expect the fish to come to you. There are several useful access points however, and I started on the corner beside the dam. It was a beautiful scene, with spring in the air and the bright yellow gorse bushes bursting into life. I began with a stop start retrieve- and while I couldn't persuade an early fish to rush to the surface, I managed to tempt a silvery looking brown trout to a Daiwl Bach.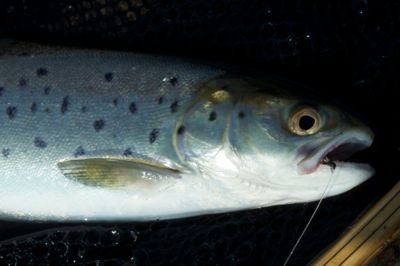 The bites then dried up. Weird really, because the place was teeming with life. Later can often be better, so I spent some time with the macro lens, surveying the life in the margins. The most notable insect life were beetles, dropping into water on a regular basis.
The most prolific trout food of all however, were sticklebacks in their thousands. In other places you might get them in dribs and drabs, but here they seem to form great gangs, hugging tight to the shore around the cover: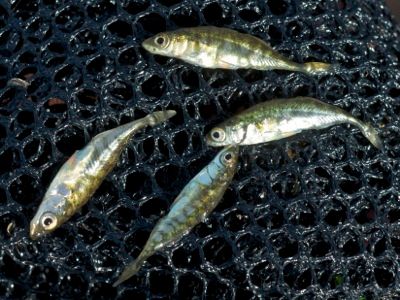 Meanwhile, out on the lake, things were still slow but hopes rose as the breeze kicked up a little and there was a massive, crunching splash at the surface as a trout hammered some unfortunate target out in the ripple. I had been thinking of switching over to a lure, but the attack convinced me to keep faith with a Green Mini Muddler, as recommended by Simon Jefferies at Turrall, who is also a fan of Colliford. I tweaked it gingerly across the surface, stepping and casting to cover the water. I must have walked several hundred yards, but just as I was wondering where the trout had gone, a dramatic response arrived.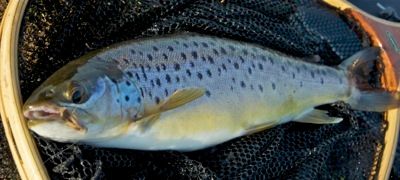 There was a giant swirl and a few seconds I wondered what on earth I'd hooked, such was the power of a pound plus brown that fought with absolute fury. These Colliford fish are almost silvery when young, but this one was a light gold and especially beautiful. I could have taken it for a frying pan, but this would have been a sad end for such a cracking fish. Incidentally though, fish of the pound to two pound stamp are by no means exceptional in size for Colliford - and the bailiff tells me they reach anything up to four plus if you're lucky or determined.
It can be hard work to find the trout, but timing is also of the essence here. It pays to be patient too, rather than flogging away all day, because things often wake up later in the day. I fancied that once the light began to drop, things could get really interesting and so it proved, because although there wasn't exactly a feeding frenzy, there was the odd rise or swirl right by the shore- and I took another nice trout of around very close to the bank after seeing it rise.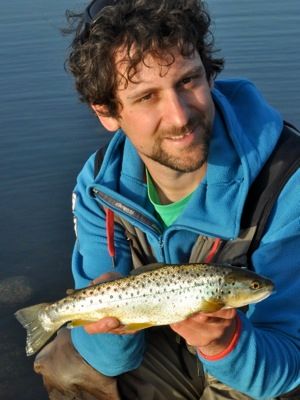 No further takes arose, but that last hour did whet my appetite for a return. The margins could be especially interesting for a dedicated dusk attack. The margins are so full of sticklebacks that they must surely make shoreline raids at the right time. On a bright day, the bigger fish might feel vulnerable coming into inches of water, but in the half light or even just into darkness it could be a very different story.
Flies for wild waters: Win the set!
Do you fancy winning the flies pictured in the blog? All you have to do is like and share the link to this blog on our
Facebook page
or
Twitter feed
, where you can also check out the latest news, flies, photography and more.